President of AWARE, Curator at Frieze Masters
The women artists in modern art
Pauline Loeb invites Camille Morineau, founder of the AWARD fondation, to talk about the female artist in modern art. Camille presents the new 'Modern Women' section she has curated at Frieze Masters 2023. A fascinating journey through this under recognized side of modernism in art history.
Pauline Loeb
Hi everyone, this is Pauline Loeb from artfairmag and today I'm very happy to be with Camille Morineau who, among many other roles,  has funded in 2014 the AWARE Foundation, AWARE for archives of women artists, research and exhibitions. Hello Camille. Recently you have been chosen by Frieze to curated their new 'Modern Women' section at Frieze Masters. So congratulations for this. But before we dive into this exciting project, could you please present a word in a few words and maybe explain its genesis and its missions?
Camille Morineau
Thank you. Yes, it's a pleasure. So, AWARE was founded, as you say, Pauline, 10 years ago, nearly. We're going to celebrate our 10th anniversary in 2024. It's a digital encyclopedia on women artists for the 19th and recently 18th century up to the 21st century. It's meant to share and provide information on women artists because some time ago, actually when I was working in Centre Pompidou,
I did a very large show called 'Elles' at Centre Pompidou, which was actually showing women from the permanent collection. And it was quite a big feat. And I discovered then that women artists were under-recognized, not visible, mostly because there's very little information about them. So a few years later, I left the museum and decided to create the tool that I had missed in 2009. So it's some time ago. And that became the project of AWARE.
So it's a free website, it's bilingual. And now we visited by around a hundred thousand people per month. That's an average. So I'm very proud of the object. And I think it changed a lot of practices around. I see more and more books about women artists, more and more shows, more acquisitions in museum, and also of course, a better market for these women, either dead or alive.
Pauline Loeb
Good, well done. And so to circle back to Frieze, can you briefly describe the project behind this new section? Why have you been chosen with your team and what have you done to curate it?
Camille Morineau
So with Frieze, it's been quite a nice adventure. Actually, we were invited last year to create Spotlight, which is a much larger section, quite an historical one in Frieze that is devoted to the 60s, 70s and 80s. So we had 26 booths of solo women artists and the collaboration with the fair, with Frieze Masters went really well. I think we enjoyed working with each other
And of course, the galleries were happy, the artists were happy, the fair was happy. And I personally, with my team, was happy that we worked well and that the fair turned out to be an interesting tool to communicate about this invisibility of women artists, because there's a lot of public coming, it's a broad audience of collectors, museum directors, but also anybody, a little bit like a museum kind of visitor. So I think it's interesting and important today that fairs have an interest for women artists, have an interest in general for the diversity of the narratives in history of art. So anyway, just to answer your question quickly, we were invited last year and after that experience, Frieze Masters and his director, Nathan Clements-Gillespie offered us as a collective to create a completely new section and we decided with Nathan, and it was really a collaborative work, to choose this title 'Modern Woman' which is in a way already saying something.
Pauline
Yes, because I believe this section wants to question the singular and male-focused view of modernism. So why do you think it's important to show different kinds of modernism in art?
Camille Morineau
Well, I think you answered very well the question already, Pauline. I think you got our point. The word modernist or modern is already quite a heavy word. It's, you know, filled with different meanings. And most of these meanings are related to a history where the avant-garde, the main narratives, the authors of the text and the artists are under, I mean, 80-90% male.So the idea is to question this word modernism and to provide different points of view to deconstruct it and to show that women artists were, or female artists were at the center of what we call modern. Although the word modern and the history behind modern is not right, has been incredibly unfair. So this modern women section with 10 stands, 10 booths, 10 proposition is really way to start deconstructing this idea of modernism to show that it was plural, that women played a very important, if not sometimes completely central role, that they were very well recognized, even for some of them really famous. So it's really modernity upside down.
Pauline
And I believe there will be a variety of mediums in this section. I think you have paintings, sculptures, photography, textiles and even digital art. So how do you feel this mix of medium tells the story of these weman artists from the 1880-1980 period?
Camille Morineau
Yes, so you're right to remind that the section is about, is between the artists were born between 1850 and the works go until 1980. So it's not like the emerging artists, it's really about history. And we have a wide diversity of medium. That's one of the theme actually of modern women to show that women artists have been working in every technique and some of them inventing them. So maybe I'm going to mention a few of these artists. Vera Molnár is a Hungarian-based artist who travelled to Paris, who's one of the pioneers of digital art. She will turn 100 next January, so she's still living. Amazing artist that didn't have yet a retrospective actually. So I think, well, that's a way to just flag up how important she is. But we have also an amazing photographer, Lisetta Carmi, who's Italian and one of the first to work on representing the trans, the queer world. And queer is actually an important chapter, common point between different artists. For example, Emilie Charmy, who's a French painter, not so well known, I think, even in France. She was an amazing avant-garde figurative artist, was close to the fauvist, very well known at her time, and one of the ones to reinvent the nude completely. A very eroticized nude, a lesbian nude. She was an official lover of Colette. So she's a really interesting figure of what we could call a pre-queer world. And she's dialoguing with an queer British figurative artist called Ethel Walker, who was very famous. She was made a dame in 1943. She had a lot of commissions in the UK. And one of them, the most famous one is called Golden Age. And she's featuring only women. So the two of them will dialogue in this larger team of the nude and to show how women artists have questioned the nude pretty early on. Then we have, for example, a famous artist, Tarsila do Amaral, who was really the head of Brazilian avant-garde. Or between figuration and abstraction, that's I think one of the questions that comes very quickly. We have Paul Wesley and Anna Eva Bergman, who both were painter and worked in between figuration and abstraction. So that question's also modernity in the sense that we want to have really divided on one side abstraction, the other side figuration, and it's hard to think about artists that worked in both directions at the same time, but they actually did, and especially women. So it's interesting to understand why, how, and these two artists really provide answers to that question. And then, and then, oh, I want to talk about textile art. I don't know if I still have the time, Pauline.
Pauline Loeb
Yes please and we don't talk much about textiles so it's great to hear you.
Camille Morineau
Okay, so I like the question about the diversity of techniques because again, it's central in the selection. And we wanted to show how textile was used very early on by different kinds of women artists. For example, Faith Ringgold was an American feminist artist, quite political, used as a way to reinvent figuration, linking Afro-American descendants with the most vibrant feminist questions. We also have some kind of different textile with the work of an Italian artist called Maria Lai, who's identified with informal art and geometric abstraction and who used threads and textile books in the 1970s, which are really strange objects and also provide another point of view on what we think on textile art. It can be political, it can be abstract, it can be close to books in general. And maybe I will give another name of an amazing Korean artist, Kangja Jung.South Korean was known to be the first performer and performance is also a very important technique of women artists. They were really pioneers in that realm. She also is going to use textile in the shape of batiks. So she's using folklore technique to also question feminism in a country that was really repressive, South Korea. She actually had to leave South Korea in the 1960s and she has to be rediscovered as a very important feminist artist. So I've been a little bit too long, sorry.
Pauline Loeb
No, no, it's fine Claire, but I just wanted to bounce on the word "political" you used because we know that not necessarily many, but some of these women artists had a committed political approach in their art, but of course not all of them. So how this new 'Modern women' section will bridge the gap between the two kinds of works.
Camille Morineau
Well, we have different generations, obviously, ranging from artists working at the turn of the 20th century, where the word feminism didn't really exist. There was suffragette. And suffragette was a very, very active and violent movement. We have forgotten that these women actually put bombs in buildings. So it was really something strong and present in the minds of a lot of these artists. Political also had a different meaning for some of these artists like Tarsila do Amaral, who created a Brazilian art. And it was pretty risky to talk about another kind of modernism, not a European-based modernism. So political can have also a geographic meaning to shed light on new continents. And then we have the feminist who identify as feminist and that's another generation But this feminism sometimes happens before the 1960s So we I think we also have to reconsider the history of feminism.
Pauline
Thank you so much Camille, thank you for your valuable insights on all these amazing women artists and shedding some light on this upcoming section because Frieze is just around the corner. Frieze Masters opens in the 11th, right?
Camille Morineau
Yes, 11th of October, that is a preview.
Pauline
Looking forward to visiting this section. And thank you once again for joining me today.
Camille Morineau
Thank you for your interest and I can't wait to meet you there.
More videos
In Conversation With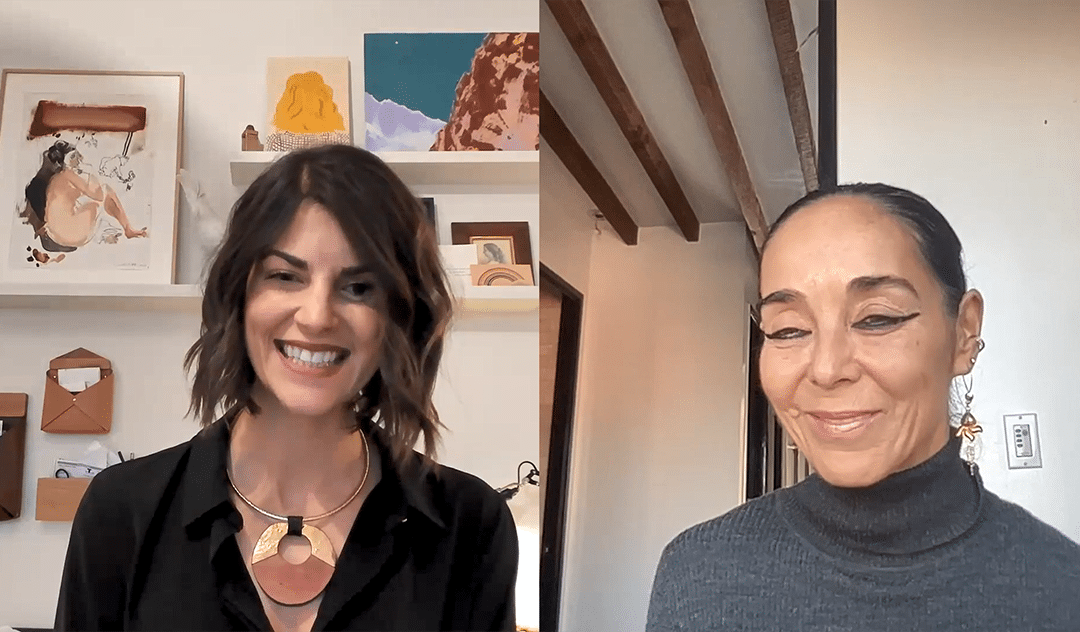 Shirin Neshat Photographer & video artist'Issue 16' magazine by Der GreidPauline Loeb invites Shirin Neshat, the world reknowned Iranian photographer and video artist based in New York, to talk about the magazine she curated for Der Greif, 'Issue 16', inspired by...