Art fairs & art galleries in 2022
Pauline Loeb invites Dr Clare McAndrew, cultural economist, specialized in arts, antiques and collectibles market, to talk about the facts and figures of art fairs and art galleries around the world in 2022. Clare McAndrew is the author of The Art Basel and UBS Art Market Report.
Pauline Loeb
So hi everyone, I'm Pauline Loeb from artfairmag and today I've invited Dr. Clare McAndrew, a renowned cultural economist specializing in the arts, antiques and collectibles market. Good afternoon, Clare.
Clare McAndrew
Hi Pauline, great to be here.
Pauline Loeb
Thank you so much for joining me. So Clare, you are the brain behind the Art Market Report, which offers every year a unique overview of the international art market. And the 2023 edition has just been released. And as usual, it's full of very relevant information. So, in 2022 there were fewer art fairs than in 2019. There were 346 fairs last year against 408 in 2019. And the sales also were lower than in their pre-pandemic levels. So would you say they have regained their dynamism?
Clare McAndrew
I think this has been a fascinating part of the market to watch because I think we were talking before COVID, everyone was talking about consolidation in the art fair industry and dealers were talking about doing less fares and all these kind of trends already underway but none of this had actually really happened. I mean fares were still growing in number and dealers were still doing just as many fairs. And I think in 2019, the last year before COVID, 42% of sales by dealers were at art fairs, or it was 41 or 42 at art fairs. And that was kind of rivaling, if not overtaking the amount of sales they were making in the gallery, and online was this very small component. And then you saw this huge turnaround in 2020 with COVID. Obviously, a lot of the events didn't happen and the share of sales at Art Fair shrank back to 13%. And then since then, we've been kind of saying, well, what happens next now that we've had this big kind of exogenous shock to the system? Are we just going to go back onto that frenetic schedule of events again? And it's kind of yes and no. I mean, they have come back again, but I mean, as you're saying, the number of events has declined. And even last year in the report that's out this week, we saw dealers made 35% of their sales at fair. So bigger than obviously the 13% they were making during COVID, but not still at that same level, not still at that 42% level that it was pre-COVID. And I think if you talk to a lot of galleries, they're actually putting their money where their mouths were before. They're not, they really are auditing their schedules and I mean, costs are rocketing.
That's one thing that everybody spoke to me about last year was just how much it costs to travel, to ship works, to fairs and all those kind of factors playing into the fact that people are really looking at their schedules and thinking, we, they know how important fairs are, but they don't necessarily have to do every single one. So it feels like a moment of, of change. And I think, you know, further consolidation around key events that give galleries global outreach, but then the smaller events kind of getting more regional, if you like, and more sector-specific. So I do think it seems to be, it's not just back to the normal schedule. It is definitely, it feels like a change.
Pauline Loeb
And your report also says that art fairs were not equally profitable to all kinds of galleries. So could you explain this as well?
Clare McAndrew
Yeah, I mean, we look at sales rather than profitability, I suppose. So, you know, just in terms of the amount of the share of sales, it's obviously the bigger galleries making a larger share of sales. I think they've all struggled with the costs of fairs. I mean, even for the larger galleries, even though they have bigger pockets, steeper pockets, you know, the the the costs of exhibiting at a fair, travelling to the fair, the amount of hospitality and entertaining around there is huge for some of these galleries and it's not only the cost but the opportunity cost of not being at home and keeping the home fires burning if you like with being in the gallery and looking after people that need help at home. So there's a lot of things that go into it but definitely in terms of the share of sales it was the bigger galleries that are making a higher share of sales at fairs and some of the smaller galleries. I think really, really struggling in the last year with costs because they had in some ways the double issue of not only their own costs rising but perhaps their collectors being a little bit more cost sensitive as well. So they were saying, you know, my shipping costs have doubled. I want to try and pass it on to a collector but they want actually bigger discounts because they're struggling as well whereas at the high end is a kind of a sense of being a little bit more insulated from the day-to-day cost of living crisis that we're seeing. That we've all been kind of suffering through.
Pauline Loeb
And what was quite clear as well is that the art market in 2022 was polarized. And I'd like you to say if you think this trend will continue and if you think that the majority of the art market revenue will be generated by a few major players of the art market, such as auction houses and galleries with a turnover of more than 10 million dollars.
Clare McAndrew
I think it's always been the case we've seen that the higher end of the market has tended to outperform the middle and lower ends. And I think again, 2020 was a little bit of a pause from that, especially if you looked at the dealer sector. It was some of the smaller galleries did a little bit better, so they didn't fall as much as some of the bigger galleries. But as soon as sales started to pick up again, we saw that high end outperforming again. And I think that was the case in 2021, but most areas of the market were improving.
Whereas last year it was quite a divide actually between the higher and the lower end. So the 10 million plus galleries, you know, kind of up around 19, 20 percent in the surveys. The sub 250,000 galleries falling, their average sales falling year on year. So they were the worst performing the last couple of years. So it's kind of, it's really, it's a tricky time. And I think it was really interesting in the report this year as well, because we don't have transaction by transaction level data in the gallery sector, we use auction data as well. And you can really see it there. Last year, the only segment at auction to increase was the 10 million plus segment. The 10 million plus segment increased 12% year on year. Everything else, every other segment fell in value. This is why we had these kind of really muted growth in the auction sector, it was kind of, it dropped actually 1% in terms of public auction sales because the high end did really well. We had all these, you know, six works selling for over a hundred million, these kind of fantastic results, but it wasn't quite enough to buoy the whole market up. And I mean, this is why the market isn't perhaps growing in real terms as much as it could. It's the high end is enough to generate growth, but if everything was growing. It would grow at a much faster pace and a much more solid pace. So it's a concern because, you know, you need the lower level of the market for the upper market to survive as well. Everyone has to start somewhere. These artists have to be kind of incubated, if you like, somewhere. So it is concerning a factor. Just how do you bridge from the smaller galleries to the bigger galleries and how do they collaborate more vertically? Galleries are very good at collaborating horizontally. But how do we get more vertical integration in the sector, I think is a big concern for the future.
Pauline Loeb
Yes, and we could have thought that digital would have been an answer, but I mean, at the beginning of COVID, we all thought that it would induce a deep digital revolution in the art market. And your figures show that it wasn't really the case, because even if the online only sales were much higher last year than in 2019, they have decline. So, I mean, it's something. So what do you think, what role does digital technology play in the art market today and what do you see for the future?
Clare McAndrew
I think that's been next to the kind of, that's the corollary of art fair as being one of the most interesting things to watch is what's happening with online sales, because the art market was lagging so far behind, I think, before in terms of their, how they did digital, particularly the gallery sector, the auction sector a little bit ahead, I think, in terms of their rollout of digital programs and if you look at online bidding and things like that in Sotheby's and Christie's and those big auction houses now it's75-80% if not more of bids take place online from about 20% you know 10-20 years ago. So they've been a little bit ahead in pushing that and I suppose that most of the buying has been out of the room whether it's by phone or online for some time whereas galleries kind of only really catching up but they really did they got that kind of kickstart I think COVID to ramp up their programs to make investments in both the the kind of the look and the functionality of their digital offerings. And we did see it slipping back, it's moved back, I think it was about 25% of global sales at the peak in 2020. And it shifted back again to about 16% by value of sales. And that's probably not that surprising, given that we all want to go to fairs and to go to events and to go to gallery exhibitions. And it's a very the art market is a very social kind of experience led event driven marketplace. So I guess it's not that surprising when they're available again that people did want those experiences. But but if you look at the absolute level of online sales. They have really risen. I mean, they're over 80% higher now than they were in 2019. And that's a huge a bit and gallery sales still being strong, I think it is a permanent change that people are pushing on both cylinders, they're going for digital and offline experiences at the same time. And I think that a lot of galleries have invested a lot in what they do and they're not gonna give that up. And the same with collectors, I think people were skeptical about whether they would buy online before. And I think some of people did during COVID and to the extent that that was okay and it turned out okay and the experience was okay for them, I think they would, they wouldn't do it as a first choice, but they would do it when they need to. And I think it appeals.
Certainly, I think it's probably a perk of being extremely wealthy to go to every single event, but I think a lot of people now are tied to their homes and their offices and their families and they can't make it to things and maybe they don't want to travel as much because of sustainability concerns and do you have on every single plane and go to every single event? Can you engage with them in different ways? And as that kind of options for engaging in better ways digitally improves. People will still want the experiences but maybe just not feel they have to do every single one. I think that's the key.
Pauline Loeb (12:43.850)
So it's a kind of hybridation which can be profitable for everyone. And you're very optimistic about the art market in the next few years.
Clare McAndrew
I tried to stay optimistic about it. Yeah, I mean, I think it's very difficult to know what's around the corner, but it has been very resilient. And I think it, I think there was a tendency, especially for a lot of galleries, not to plan ahead too far. And although you never know what's coming around the corner, I think we have seen in the last year or so that they are looking ahead and they're realizing that they don't always just have to take what happens. They can actually kind of shape how their future kind of rolls out as well. So it feels like they're being a little bit more proactive about their planning and their future and trying different things and trying different alternative premises, alternative spaces, alternative collaborations, all those kinds of things. And I think they're all really important developments we can learn from the last couple of years, instead of kind of focusing on all the kind of negative things that have happened during COVID, I think at this point we need to focus on what are some of the good lessons that we can learn? What did we really miss? And what do we realize we can do without, I think.
Pauline Loeb
Thank you very much Clare for all these precious insights. And congratulations once again for your wonderful work.
Clare McAndrew
Thanks very much Pauline. Thank you.
More videos
In Conversation With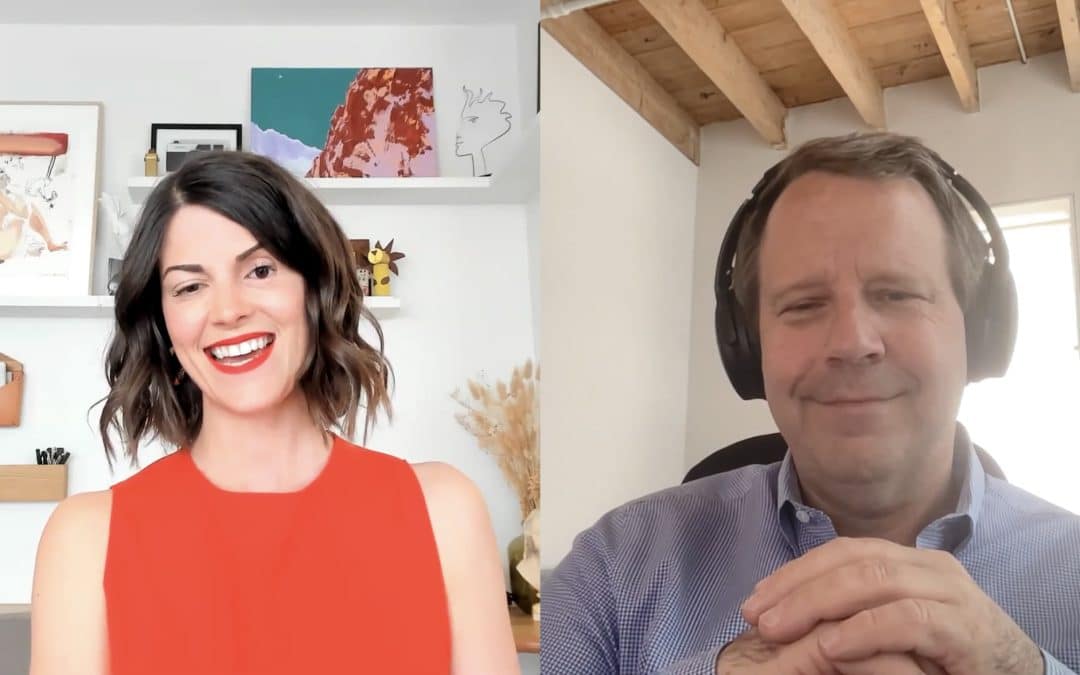 Chris VroomFounder of Valence, ArtSpace, Artadia, etc.Web3, blockchain & the art marketPauline Loeb invites New York based serial entrepreneur Chris Vroom to talk about his newest company Valence, the blockchain technology and how it can bring more transparency in...